September 2022
Another successful trip to South Dakota in the books!
Over the September 22-24, 2022 weekend, Dr. Hoverson, Dr. Uppgaard, Keeley and Mercedes, headed out on their annual mission trip to the Rosebud Indian Reservation in St. Francis, South Dakota.
It was a fulfilling and productive weekend full of fun, teeth, and Dr. Uppgaard's unique choice of music. We are looking forward to another round next year!
---
Big News Alert!!

Dr. Uppgaard recently sold his beloved Nicollet Mall Dental Arts to the talented Dr. Norah Hoverson, DDS, as of June 5th, 2020. Do not fret, Dr. Uppgaard is in the office a couple days a week for appointments and to chat! This transition will allow Dr. Uppgaard to pursue his next passion and we are all very proud and thankful for him. It has been an exciting two months with this transition, and we cannot wait to see you again for your next appointment to meet Dr. Hoverson! The hygienists, Keeley and Morgan, and assistant, Katy, that you've all come to know and love are still here to welcome you with open arms!


Dr. Norah Hoverson is from our neighboring state North Dakota, attended Marquette University School of Dentistry in Milwaukee, WI, and completed her residency at the University of Washington in Seattle, WA. This big life step has been a dream of hers for years and is ecstatic to be in her favorite city- Minneapolis! We know she will continue the professional and devoted care for you that Dr. Uppgaard has begun. See you soon!!

David A. Uppgaard, DDS
Norah N. Hoverson, DDS
---
Autumn 2019

Dr. Uppgaard recently returned tired, but happy from his annual mission trip to the Rosebud Indian Reservation in St. Francis, S.D. He is shown here with the clinic director, Marty Jones.
We are thrilled to announce that Dr. Uppgaard has been named one of Minnesota Monthly's Best Dentists for 2018 and 2019, plus he received Twin Cities Consumers Checkbook top rating for quality in it's 2018 and 2019 spring/summer issue. These sorts of honors validate our mission to provide a comfortable and quality experience for all of you. Thank you!
Our our lead hygienist, Keeley F., continues her work on her Masters of Science in Dental Hygiene, an education track program, at the University of Minnesota School of Dentistry. This is an evening/weekend program so she is able to continue her full time position here while pursuing this degree. We wish her the best of luck!
Dr. Uppgaard recently acquired a soft tissue diode laser. We are now a "Laser Practice"! Primarily it will be utilized to improve the quality of the restorations (crowns, fillings, veneers) he makes. He is very pleased with how well it is working.
Nicollet Mall Dental Arts is happy to announce that the acquisition of the dental practice of Dr. Daniel Odegaard has gone well. Dr. Odegaard retired April of 2016 after a very successful career, practicing in the Medical Arts Building and teaching at the University of Minnesota School of Dentistry. We are pleased to be able to provide the same quality of care to his patients as Dr. Odegaard did.
Dr. Uppgaard is an investigator for the National Dental Practice Based Research Network. We have completed the third and final year of clinical study focusing on cracked teeth. Thank you to all of you who volunteered! Dr. Uppgaard also was an investigator for a pilot study attempting to determine the risk of oral cancer from the HPV (Human Papilloma Virus). The oral cancer rates of squamous cell carcinomas have risen dramatically in the past several years in younger adults and the HPV has been implicated. This is an important study that may help in developing an early screening device for the future. An article summarizing the findings of this study is being written with the hope of publication in major journals, including the Journal of the American Dental Association. Dr. Uppgaard is listed as a co author of this article. Again, we are grateful to all who volunteered for that study!
We recently completed another study, Management of Painful Temporomandibular Disorders. This is another area of professional interest for Dr. Uppgaard. Hopefully its findings will shed light on the best treatment for the painful disorders of the TMJs. We appreciate those of you who were able to participate in this study.
Dr. Uppgaard completed a course during the springtime of 2017 for the restoration of permanently edentulous arches put on by the Zimmer Biomet Institute. You may have seen in the news or ads about "Teeth In A Day" or "All On 4". These are implant supported restorations that replace complete dentures. They are fantastic restorations that patients love!
---
Mission Trip, October 2017:
St. Francis-Mission Dental Clinic
Rosebud Indian Reservation
Keeley Flavin, LDH
Day One: We're Off!
Dr. Uppgaard, hygienist Cyndee Stull, and I hit the road Thursday morning to head to the Rosebud Indian Reservation for a weekend of giving back and lots of fun. For the past five years, Dr. Uppgaard has volunteered his dental services to the Native American community in St. Francis, South Dakota, located on the Rosebud Indian Reservation. The St. Francis Mission Dental Clinic provides much needed services to the community, and is run almost entirely on volunteers.
You can read more about the clinic at https://www.sfmission.org/programs/dental-clinic/
Listening to some tunes, road snacks, and a little pit stop at the famous Corn Palace made for an entertaining 8-hour car ride. (PSA: you don't want to be the DJ for Dr. U; he's quite picky about his music!).
We arrived at the Rosebud Reservation on a beautiful evening and enjoyed some s'mores while discussing important clinical business for our first work day tomorrow. Our new friend, Butty the Reservation dog, joined us for the bonfire. He liked Dr. U a lot! We watched a movie, and turned in kind of early to rest up for our big day in the morning.
Day Two: First day of Clinic
The only photo I have from this day is Butty the dog! We were way too busy to take any photos at the clinic. The first of our two days turned out to be very productive.
Between me and Dr. Uppgaard, Cyndee, and another hygienist, we treated more than 30 people on our first day! We met so many amazing patients, from various walks of life. Everyone was so grateful we were there to help restore their smiles and provide them with some much-needed dental care.
It was a long day (almost 10 hours of work!), but well worth it. The weather wasn't too nice, so we headed home to make dinner and hunker down for the evening. Even though we were wiped out from the day, we still stayed up a little later to watch Young Frankenstein! A classic.
Day Three: Wrapping up
The second, and last, day of clinic was just as busy as the first. Again, many lovely patients were treated, and lessons were learned from both patient and provider. When the weekend was over, it was calculated that over 70 patients total were seen between all the providers in the two days we were at the clinic! Dr. Uppgaard saw every single one of those patients; either giving exams or treating their restorative or emergent needs.
My favorite part of the day was when someone gifted a radio to Dr. Uppgaard… maybe it was to get him to stop singing while he works?
We were exhausted from another busy day, but knew that we couldn't let the beautiful, sunny, 70 degree day go to waste. We headed over to the track for a 'quick' 5k run. Dr. U and Cyndee only lapped me twice…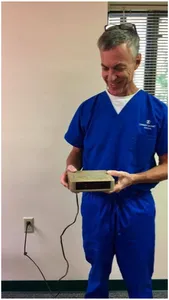 Later, we toured beautiful St. Charles Borromeo, also known as the "Purple Church" for it's lavender exterior; the designs are hand painted on the walls and ceilings and the bells played all throughout the day.
After visiting the church, we got a private tour of the St. Francis Mission Museum. We couldn't take any pictures inside, but the artifacts were just amazing. From Lakota paintings, to headdresses, to intricate beadwork, we were in awe at the craftsmanship and history of the Native American Culture.
Overall it was a great weekend filled with giving back and fun. The clinic director, Marty, does a fabulous job at filling the schedule, and making sure we have everything we need for the weekend. I'm so grateful that there's such a well-run clinic to serve the Native American community in the area.We all left with a sense of gratitude and warmth in our hearts. Rosebud, we'll be back!
Although Marty and the staff work hard to allow the clinic to run smoothly, St. Francis Mission is dependant on support from outside resources. All funds donated are used to support the Lakota people of the Rosebud Reservation, and are in compliance with section 501(c)(3) of the Internal Revenue Service Code. If you would like to make a tax deductible donation, follow the link below.
https://www.sfmission.org/contribute/ways-to-donate/